WHY CHOOSE KUNO KINZOKU INDUSTORY
Precision within ±1/100 mm
Technical capabilities for complex, high-precision presswork
For presswork makers, dies are the most important piece of know-how, and the technical capabilities of presses are mostly determined by die precision. At our company, more than 90% of dies are fabricated in-house, taking advantage of our expert die-making techniques and extensive equipment line-up. We handle everything in-house from the design to manufacturing and maintenance, and we have built advanced technologies in the fields of die design, die parts processing, and trial adjustment, which are the key to high-precision dies.
Die Design Technology

It is no exaggeration to say that 80% of die making is determined by design. We make accurate blueprints with consideration given to all possible processing conditions, such as the shaping of the product, the specifications of the production equipment, the function of each processing step, a simple and high-precision die structure, and the ease of assembly, adjustment, and repair. For high-tensile steel that is easily affected by various processing conditions, it is difficult to make good products with just experience and die structure; for reliable designs, we employ simulation technology to create the optimal expected shape of die parts.
Die Part Processing Technology

High-precision equipment is indispensable to the making of high-precision die parts. We have carefully selected all our equipment, including four jig borers controlled to with 1/10,000 mm and wire-cut electrical discharge machines from Yasda Precision Tools K.K. Combining these with the most advanced tooling, we are able to shorten the processing time as well as increase the precision of processing. We also design and manufacture our own jigs, which are necessary for the "set-up" that determines machining precision.
Trial Adjustment

Trial adjustment is a technique for the final adjustment of an assembled die to ensure that the pressed parts are made according to the design. Swift and accurate adjustments require the sense of skilled workers; in particular, with a complex and high-precision pressing that involves many molding processes, the slightest adjustment can lead to significant differences in the end result. From our foundation, we have continued to build upon the experience of die workers who exert high skill when making adjustments.
Integration of craftsmanship and automation through the use of ICT
Since the development of FA robots in the 1980s, we have been putting effort into the use of ICT. Using a combination of our own servers, IoT, and cloud computing, we have introduced a dedicated in-house system for production management, die management, quality control, management of EDI suppliers, all the way to automated warehouse management. We are also moving forward with the automation of our expertise with ICT for the improvement of production processes using mobile devices and the systemization of our craftsmen's intuition and skill. This has enabled the creation of an environment in which staff can concentrate on coming up with work ideas and strengthening their technical capabilities.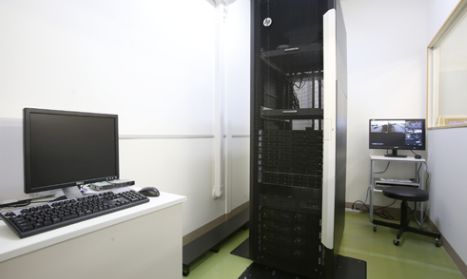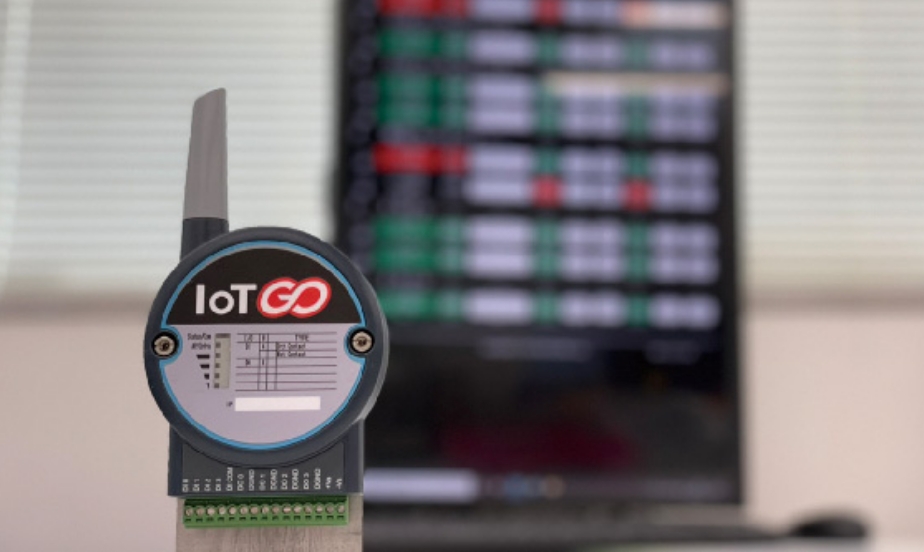 Diverse employee education, including technical certification and training
Our company has a history of more than 70 years with advanced technology as our competitive edge. Since our founding, we have placed the utmost importance on the development of outstanding staff to support our technical capabilities, and have continued to actively foster development of skills through various education and training programs. We also exert effort in creating a climate that encourages proactive technical improvement and the improvement of productivity at worksites through technical certifications that motivate staff to improve their skills and through club activities that provide opportunities for self- and mutual development.
Technical Certification System
We have established a Technical Certification System whereby each employee submits an annual work-related report, such as proposals for rationalization and labor saving, which is evaluated on a scale of 10 to 1. Level 7 is equivalent to a 2nd grade Certified Skilled Worker in the national qualification system. We provide fair evaluation to increase staff motivation.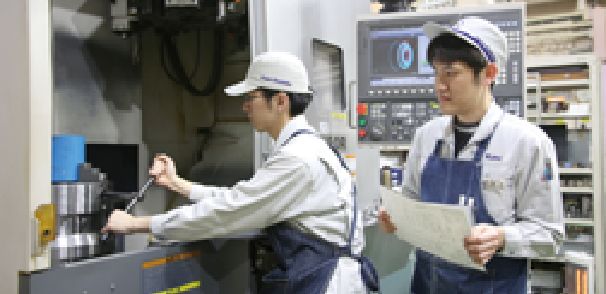 Education and Training
We encourage our staff to attend workshops sponsored by external organizations, and we also offer technical guidance on advanced technologies unique to our company, such as die design and processing. We also provide assistance with study for national qualification tests for engineers and the acquisition of national qualifications. We also have established an improvement suggestion system to develop human resources who are to lead the next generation.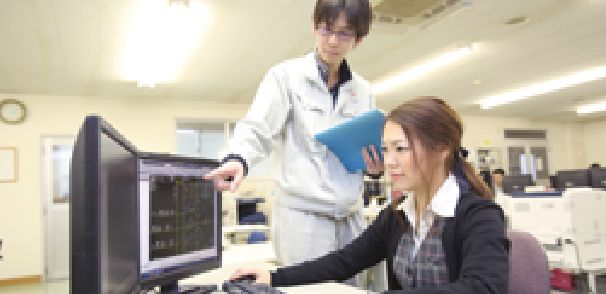 QC Circle Activities
We started QC circle activities in 1972 to improve our business operations and promote self-development among staff. We have made presentations four times at the QC Circle Convention, Tokai Branch, and at the Nagoya SME TQC Presentations, where we won one Silver Award and two Gold Awards. Our presentations are also highly evaluated outside the company.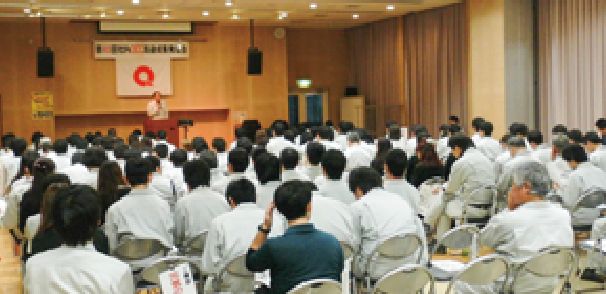 Consistent support, from prototyping to product development, mass production presswork, and assembly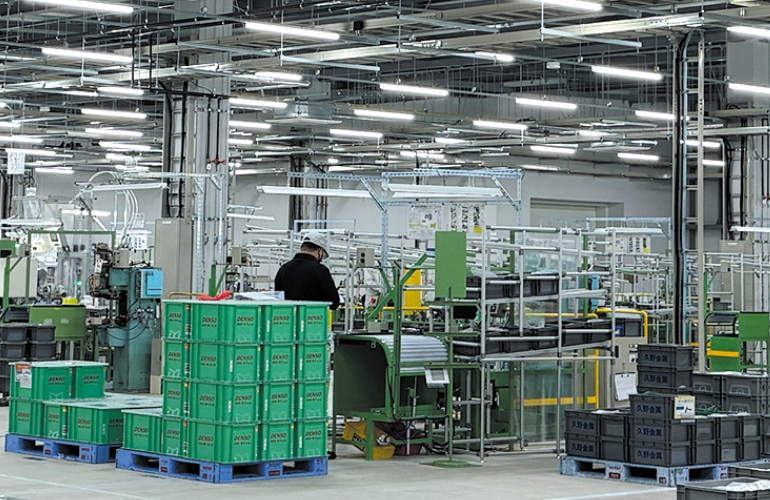 We often hear people say things like: "We made a prototype at a prototype maker but when we tried to mass-produce it at another maker, we failed," or "We could not obtain the same precision as our prototype," or "The unit price turned out to be too high." These are due to the fact that the prototypes were created using a process that is not suitable for mass production. At our company, with its integrated system, from prototyping to mass production, we prevent such problems before they happen by adopting processes and equipment specifically designed for mass production. In addition, since all processes can be performed in-house, the risk of information leaks during product development can be eliminated.
Handling difficult presswork with a combination of self-developed equipment and technology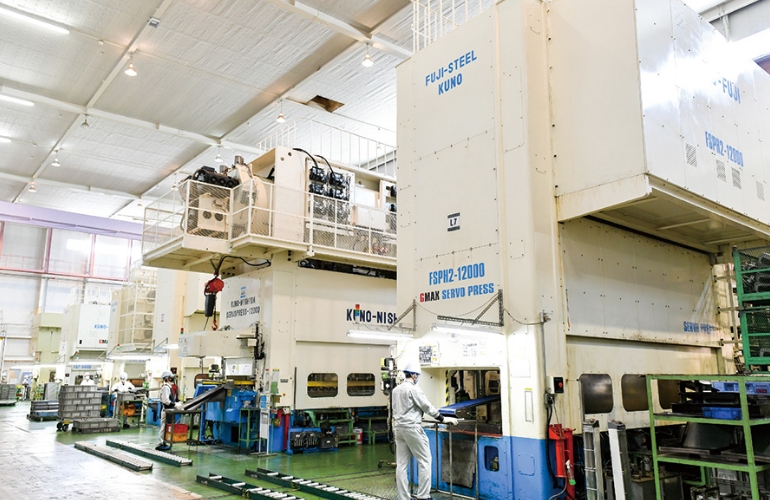 With a wide variety of equipment, including a 1200 t progressive servo press developed jointly with a press machine manufacturer and a 250 t × 10 process robot, we are able to handle difficult press molding that cannot be produced by our clients' or other companies' production lines. We can also perform cutting, enabling us to handle even more complex shapes and added material properties. We have set up a wide range of production systems, including welding robots and jigs developed in-house. Furthermore, our high-precision pressing makes for beautiful joints and spatter-free welding of plated materials.
Contributing to cost reduction with a one-process completion system and other efficient mass production systems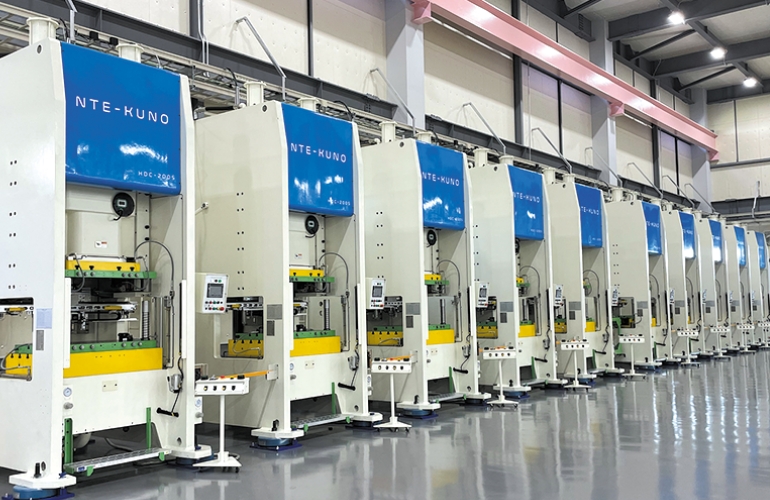 We are fully equipped with a mass production system that can complete multiple processes in one go, including a long bed progressive press (4.5 m) and robot line performing a maximum of 15 processes (110 t). We can also perform in-line tapping (roll tapping) to shorten lead time. Efficiency in transport and storage is also improved with control and coordination of automated warehouses and automated transport vehicles. In addition, all of our dies incorporate our unique compact specifications to achieve short delivery times, high maintainability, and space savings. All processes can be handled in-house enabling smooth troubleshooting.
Strict quality control system to minimize losses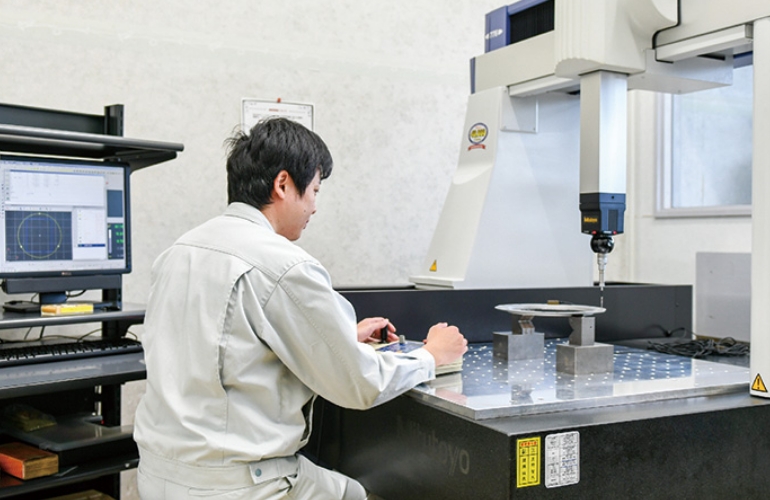 We have state-of-the-art inspection equipment, including a high-precision contour measuring device, operated by in-house certified examiners to make accurate product measurements, inspections, and judgments. We also conduct automatic inspections with 3-dimensional coordinate measuring machines and automatic output of measured data. If requested, we can provide a lot management service and inspection result tracing. Furthermore, we also exert effort in creating production processes that minimize the creation of defects by adopting a single-unit flow line for easy detection of defects in the production process. Recently, we have received "Outstanding Quality Awards" from our clients.